Zeder Kämme
"Cedar Crest" is our home and training facility located in Greenleaf, Idaho. We are breeders of high quality German shepherds, now in our 28th year.  Our German Shepherds are registered as vom Zeder Kämme, the German words meaning "of Cedar Crest." We are just 30 miles west of Boise, Idaho, a few miles north of the Snake River and southwestern Idaho's wine country, and a stone's throw from the Owyhee mountains.
About the Breeder
I have been involved with German Shepherds for over 20 years. I got my first dog, Newton, in 1988. Newton showed me that a well-bred dog can be a good pet, a good Schutzhund dog, stunning to look at, and healthy! In those days a BH was not yet required, so when Newton was just 18 months old, I got his Schutzhund 1. This started my love of the sport and the balanced German Shepherd. Newton and I went on to further his training, and he got to the Schutzhund 3 level by 2 1/2 years old. He went on to complete 2 more Schutzhund 3 titles, with improved scores, and a 99 point "protection" score. He then was shown and got his Breed Survey.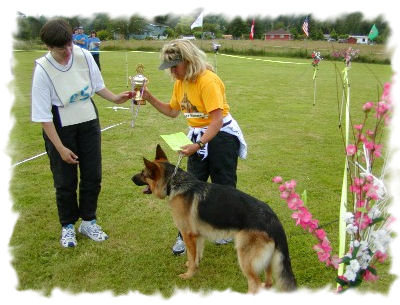 I have gone on to train and title 17 different dogs with German titles: BH – AD – SchH 1-2-3, IPO and FH (Advanced Tracking) and earned the coveted Schutzhund 3 Club recognition from United Schutzhund Clubs of America three different times. This requires training a dog from puppy through their advanced Schutzhund titles. I have taken many of those dogs through the Breed Survey, a total evaluation of body and mind. In the late 90's I earned the Sports Training Medal in Gold from the United Schutzhund Clubs of America.
I feel this training experience has helped me to understand the dogs I am using for breeding, and become a good judge of temperament and character. It has helped me to more fully understand what the breed is all about.
Goals
I am breeding and training a TOTAL, balanced German Shepherd Dog; one that can demonstrate correct temperament through working tests and/or the sport of Schutzhund, one that has correct structure and is striking to behold…. These are GERMAN shepherds. Every country has their own interpretation of the Standard, but we follow the German standard. My goal is to breed dogs that can be shown in the SV style show ring and be a fun sport dog, a companion, and a dog that exemplifies the beauty and structural soundness of the breed, all at the same time. I breed dogs that are easy to live with, reliable, and can be easily trained, even by a novice. In short, this is a dog anyone should be happy to own! I closely adhere to the German program (as outlined by the SV and the FCI breed standard.) as a guideline for breeding & use V, VA, KKL1 (Class One) West German breeding stock to the extent possible. I use dogs that have certified hips and elbows from the SV or OFA and prefer to use those with low ZW (breed value). The lower the number the better hip production is predicted. Beauty and structure are important to me, but I don't choose that at the expense of good health and solid temperament. I have many repeat clients, some with as many as 3 GSDs from me!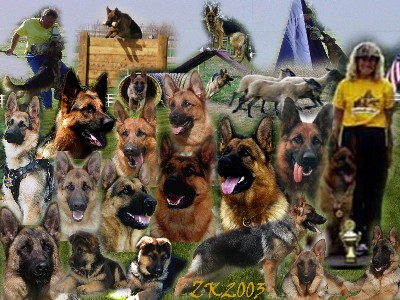 Foremost, I enjoy these animals as companions and as a source of humor, enjoyment, and exercise. I am a professional educator, and my dogs and kennel are not my source of income, they are just my Passion. I offer all buyers extensive information about our kennel and the lines of the dogs I use and explain why I chose certain dogs for breeding. I study the "Standard," watch video, read books about breeding and the breed, and research, research, research, which combinations of lines produce the qualities I am looking for. I strongly encourage people to visit and meet the dogs and myself. Owners have thanked me and have been glad they spent the extra time and a little more money to buy a quality animal from someone with honesty and integrity. Written sales contracts and health guarantees, our Client ZK Group page on Facebook, and regular communication are just a few ways that we "go the extra mile." The dogs and I look forward to meeting you!