Testimonials
These are notes from people who have purchased ZK dogs and pups.
Hi Nancy!   Just wanted to let you know how wonderfully Hunter is doing.  We've been going to a few trailing classes, and have been training here at home as well.  He is very focused and really knows what he's doing.  He has done trails at night, in the snow, with a subject hiding "up", urban and woods, and trails with several people at the end so he has to id his subject.  He's also beginning to do aged trails. He loves it because we do it together, and I think he really likes a puzzle that he has to figure out.    I know I post lots of fun pics of him on facebook, but I wanted you to know that he's working hard as well.  He loves it all – especially if it's in the snow!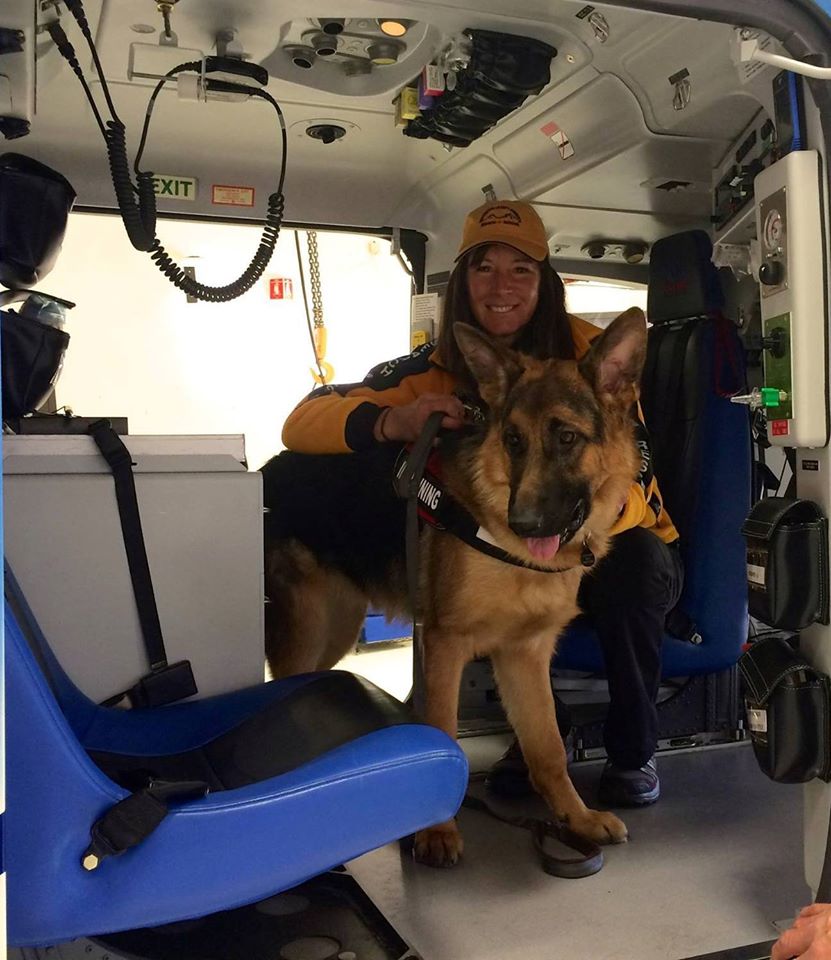 Thanks again for breeding such wonderful dogs.
Jenny and Hunter the SAR Dog, Bend, OR
---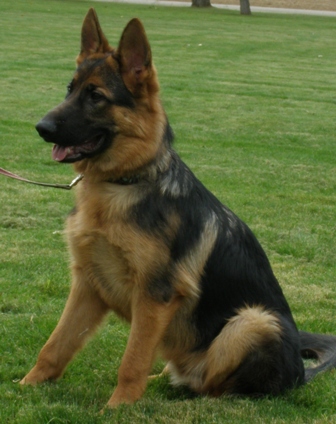 I was so reluctant to have a German Shepherd. I never would have expected what I've discovered. Ruger has a great sense of humor, he is very sensitive, (a little bit of a cry baby), loves to play with his friends, makes up games for himself, trains us to play his games with him, shares his toys (sometimes) with his poodle, and loves water. Whomever ends up with Diamond's babies will be very happy!
Kathy & Michael, Ansel "Ruger" Garden Valley
---
Nancy,
As old as Xoey is we have people who stop their cars and ask all about Xoey and where we got her. It really makes us feel good and she is the best dog we have ever had. I was wondering if you had a page size set of business cards you could email me and can print it out and cut them up to keep in our wallets to give to people when people ask where we got her and make sure they have correct info about your kennel. We have one neighbor whose dog (large herding dog type) who on occasion, when their gate was open, has ran out after we passed by and went for Xoey..He got her once but didn't hurt her thank goodness, but the 2nd time Stan let her defend herself…And she did! A week or so ago Stan & I were walking Xoey and Daisy around the neighborhood and we saw their gate was closed, so we thought great a short cut as we had walked a long way and we were all tired. After we went passed their dog found a way out thru a gate further down their property that wasn't closed completely and went for Xoey and so Stan stepped toward the dog and yelled go home, get, etc., but the dog got Stan's leg and knocked him down. I was furious and then the pup they have came out but Stan chased him off. Next thing we knew was Xoey had that dog on his back and looked at us like gee whiz, why didn't you just let me handle this situation!!! We talked to the Dad and he was very apologetic and willing to pay the doctor bill, and do whatever we asked. The dog belongs to their 16 year old daughter and she came and talked to us and promised she would make sure her dog was chained up and gates closed from then on, and they have been.
Laurie and Stan
Xoey and Daisy
---
Nancy, My dog is doing great! You may recall this is the first dog I've ever owned. I'm now a complete dog person and absolutely love my dog. We always joke that he is the one true love of my life.
Monica, Idaho
Xito is a Sammy x Xoey son
---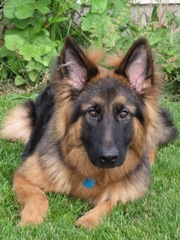 Oakley is doing awesome! He responds to me quicker than ever and is getting calmer around other animals and people. I had him over at the YMCA park with the kids this evening fetching a ball. He stayed with the kids and I the entire time even when seven different people and four different dogs walked by. I just gave him a bath today and his coat is shiny and fluffy! All I have to say is "in" and he goes into his crate. He is the perfect balance between beauty and brains! I get so many compliments. I sometimes take him out for a midnight run with me on my mountain bike and him on the retractable leash. We love him.
Brad, Caldwell, ID
Oakley is a Toska / Eiko son
---
We want to thank you again for our wonderful Killian and your breeding philosophy. Thank you. Thank you. Thank you.
Mike, Minerva & kids
Redmond, WA
Killian is a Kalypso x Lars daughter
---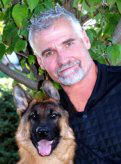 The Busby "Team"
"We work our tails off for you!"
Coldwell Banker
Tomlinson Group
(208) 250-3039
www.busbyteam.com
Now who wouldn't buy a house from these two??? Liesel is a Viva x Lars daughter.
---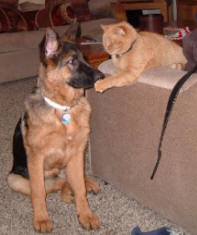 Nancy… Here are some pictures that I took tonight to show how fast Bella is growing. She loves to fetch. I throw a tennis ball for her so she can burn some energy when I get home. I was in Blockbuster last night and she did all of the tricks that I showed her infront of two people like it was cake. This is the best dog we have ever owned and so smart. She is a gem and we cannot wait to get her a sister! We just cannot believe these two! They are getting along so well.
David & Breana, Utah
Noella Bella is an Eiko x Toska daughter.
---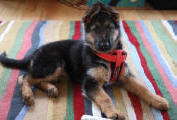 Maia is doing super. She's still growing like crazy – 42 pounds on our bathroom scale as of yesterday. And her coat is getting prettier every day. She really looks more like a mini shepherd now than a puppy.I can't tell you how often people actually stop their cars to see her. She's really turning into a beautiful dog. My favorite thing is how bouncy she is when she walks. She seems like she's spring loaded. Plus she holds her tail up really high and swishes it back and forth very daintily. North End Maia is a Toska x Eiko daughter.
Scott & Judy, Boise
---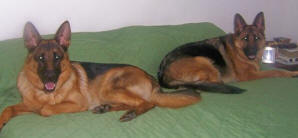 Hi Nancy! So good to hear from you! Yes, I am finally on the mend and doing much better. I cannot tell you what a gift Bogart is. He is my best friend, and I love him so much. I might be biased, but I think he's the best dog ever. He is laid back and very sensitive. I have never seen dogs be as close as he and Grace are. They are amazing to watch together. They even sleep side by side now and Grace will give him the biggest kisses! I am sending you a kodak gallery pics, but I only have Bogart on there. We have some great ones of Grace and the two of them together, that I will send to you this week also. I think training is going well. The dogs really like to work and seem satisfied afterward like they have accomplished something important. I think you have the most amazing dogs, Nancy. Not only are they beautiful and smart, but so good with people and kids, and even our cats! I have a lot of pride about Bogart- he means the world to me. I hope all is well with you. We will have to get together and have you see the dogs, that would be a lot of fun! Take care.
Kelly & kids, Boise, ID
Bogart & Lady Grace are sibling from Viva x Lars (2007)
---
I was so excited when I learned that you planned on breeding Viva again. The new sire is so handsome. Grace is a delight. She is still high energy and unbelievably intelligent. She doesn't miss anything that happens around here. No matter what we do or how much time I spend with her, it is never enough and she's always ready for more. She continues to rule the roost when it comes to Bogart, and he faithfully follows her lead or wishes. It's so cute to watch her try to teach him a new game to play with her! She is so self-confident, yet friendly to people and other dogs. She especially loves children. I truly think she's an exceptional dog. I want you to know that she is treasured by me and loved so very much. I didn't know if I could feel that way again after Rocky died, but I do…and I think she's so pretty too…very expressive face and eyes. I don't know if her mother was like this, but she is so limber. She can actually do a somersault and loves doing them. She comes up, will tuck her head right under her body and do a complete roll over when playing with a toy or getting a love rub.
I have to tell you; the other day when we were walking back from dog training in the park with Grace and Bogart, a man pulled up in his car, got out, and wanted to know where those gorgeous GSD's came from! I would love to get together with you again and bring Grace for a visit. Let me know when you would have the time. I would also like to be able to visit one of the training practices or be there to cheer you on at the meet in May.
Suzanne, Boise, ID
---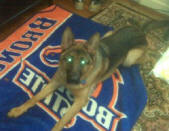 The one and only Louie Wiersma. Thank you so much for such an amazing addition to our lives.
Russell & Natalie, Georgia.
Louie is a Viva x Lars son.
---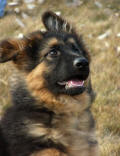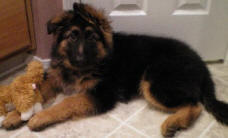 Oakley is quickly growing! He had his last parvo vaccine last Saturday. He enjoys going places and riding in the car. We take him to the park across from the YMCA often. I have let him off the leash to play ball at the park and he stays right with Jonathan and I. He have been consistently teaching him to sit, lay down, and shake hands. I have been working on short stays and having him "come around" and sit by my left knee. He is very eager to learn! He behaves better every day with the kids. Whenever people see him out in public, I get all kinds of compliments like "what a beautiful dog".
Brad & Stephanie
Caldwell, ID
Oakley is a son of Toska & Eiko, 2008
---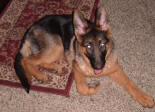 Nancy…Here are some pictures that I took tonight to show how fast Bella can burn some energy when I get home. I was in Blockbuster last night and she did all of the tricks that I showed her in front of two people like it was cake. This is the best dog I have ever owned and so smart. She is a gem and I cannot wait to get her a sister.
David & Breana, Erda, Utah
Noella Bella is a daughter of Toska and Eiko.
---
Nancy I wanted to tell you how much I love Lissi. Yes, she is a bit spunky at times, (and it would be good if she would stop biting my husband : – D) but she is a great dog and I am grateful to have her in my life. Every morning (in the dark!) we take our little walk to start the day. It is one of the highlights of my day. I just can't imagine not having her with me. You are doing such a great job with your dogs. I hope that you take time now and then to just savor what you have accomplished for you certainly deserve a lot of credit for all of your hard work and conscientious diligence. It must be gratifying to see all of the wonderful animals that are the result of your efforts.
Maureen
(L2 Litter: Viva & Lars)
---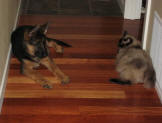 Hi Nancy, I've attached some more recent photos of Mavrik- one of him playing with his new ball, one of him hanging out in the hallway with the cat, and then one in his favorite spot in front of the fridge! We're really having fun with him! Last weekend we went down to your friend's house for him to play with a couple puppies and socialize- he loved it! It was cute to see him play with someone his own size! There aren't many dogs around us his size- they are either big or much smaller than him! This weekend he went to Eastern Washington with us- he does GREAT in the car and just sleeps the whole way! So he had fun running around in some forest land! He's so cute to watch run around and explore the world!
Lauren, Washington
(M2 Litter: Tascha x Lars)
---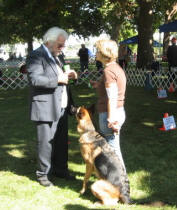 Hi Nancy. I was going to wait until after tomorrow's trial to tell you how we did, but since Henna got 1st Place in her class, I couldn't wait until tomorrow!! It was only Pre Novice, which is a non regular class (non qualifying for official legs towards titles), but still!!! It was her first obedience trial with only 1 funmatch in the summer under her belt. Oh and the rally trial (which counts). And she had a good score too- 193! I know we can to better too. It was a very long day. We had to be there at 8:30 then Henna's class didn't even start until I think around 4:00!! So in crates (with several walks) for almost 8 hours. I'm surprised she did as well as she did. She just loves to work and be with me! We do need to work with others playing the judge though. She kept looking at him like "oh hi!! when did you get here? Are you going to come say hi to me?" Then she tilted her head each way at him!! He laughed. I think he liked her! At least she's not nervous. Just needs proofing with not flirting, or whatever she was doing!! Goofball!
Janet, Spokane
(Henna is a Toska x Jando daughter)
---
Hi Nancy, Just wanted to let you know how absolutely wonderful Nova has been! I have never had a puppy as smart, beautiful, brave and curious as she is. She is asking to go outside for bio breaks, chews only her toys, is mild mannered and a DREAM! She cried a little the first night then slept all through the night, last night!Thank you ( again) for your commitment, hard work and diligence toward producing such high quality dogs.
Dottie, Idaho Falls
(N2 Litter: Toska & Eiko)
---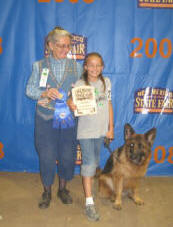 New Mexico State Fair Nancy, (January 2009) Rashel and Zimmer completed their AKC Novice Rally title last year and will continue competing in AKC shows this year. I love hearing the comments while they are going through the course as Rashel just turned 10, so is usually the only youth competing. They have a ball together and are best friends. I attached a couple of cute pictures of Rashel and Zimmer from this past year. One is a doggie fun day (notice the leash tied to her arm), a "rally" course, the contestant with liquid left in the glass wins. The other one is from the New Mexico State Fair, their obedience class win. They also had 3 firsts – showmanship, rally and obedience,
with 2 perfect scores, and a 2nd (in agility) at our county fair, and won the hi-point buckle. She has been such an awesome pal for Rashel. It has been a wonderful experience and confidence builder for her to train her herself. They are growing together and are a great team. Thanks again for a great girl. Happy New Year!
Sheri, New Mexico.(O Litter: Xoey & Zygo)
Rashel and Zimmer
---
By the way, ran into another pup (13 months) from "a breeder in ….." The owners were very nice people, and clearly took great care of the dog, but it was obvious even to my relatively naive eyes that she was yet another relatively poorly bred animal. Too wide and heavy in the hips, too much "salt and pepper" coloring across the back instead of a nice, dark coat; reddish but not as intense as Padma, and a little too large overall. Slightly bigger than Padma! They said they tried to show her but she didn't qualify. Even I saw why! I'm getting to the point that I can spot the dogs from … ('other breeders') – they're all kind of awkward and usually too big, and less well-bred than yours. I'm glad I studied their web sites and decided to not even look at the kennels because I could tell from the advertising that those breeders were not professionals. Kudos to you, Nancy!
Jennifer 😉 Padma Yclipse (Kalypso & VA Urban son)
---

Ikaika (Lariat) is doing well. He is smart, sensitive and learning how athletic he is. His temperment is wonderful, just tonight we were commenting on how well he does with Noa. I've attached a few pictures; unfortunately his eyes always catch the flash! He has been on several hikes with me this fall and alot of walks. We are working on stay and heeling. I have been using your handouts and the book by the Monks of New Skete. He's responding well, but we still have a long way to go. His coloring is changing – I love the grey around his neck and his saddle is getting smaller. His back legs are tall – he's tall!
Darcy, Boise, Idaho (L2 Litter: Viva & Lars)
---
Nancy-We love Oakley to pieces! He has such an awesome temperament with the kids. He is doing very well. Olivia and Jonathan are doing excellent with the "off" command and praise considering their age. I did take him to Lowes this afternoon with Olivia and Jonathan. He was very calm both in the car and in the store. He ended up sleeping on the floor by our bed last night with very little wimpering. I have also had each of the kids give him a treat when he was either sitting or laying down and say good boy. Overall, we are very pleased with him!
From the Wilsons
(N2 Litter: Toska & Eiko)
---
More on Suki, the SAR dog. Nancy- Thank you for the gorgeous Holiday picture. Sukie is just wonderful. I worked her last night and wanted to tell you about her performance. We set up a half mile wilderness find for her. She found the victim in under 5 minutes. She is the most incredible tracker, her air scenting skills are equal, she just loves to track.We also had a a couple of dogs come upon us who were being walked by their owners. Sukie completely ignored them and stayed focused on her job. I can't tell you how proud I was of my dog. She is fast, strong, smart and so beautiful. She is running with me now almost daily up to 6 miles. I don't run her on the roads, dirt trails only… S Litter: Zathan & Nina Elizabeth, SLC
---
Hi Nancy,
Hope you are doing well. Just wanted to say hi and share this picture with you. We have many more but this one is my favorite. Zascha is doing great-she is such a good puppy and daddy's little princess! Our 3 year old (in the picture) is more interested in her than the older dog and they play well together. She doesn't know what to think of the cat and barks at him-they'll work it out. She is such a smart dog and learned quickly that if she hides her toys under the dining room table the big dogs won't take them from her! She got tattoed yesterday, glad that's over with. Just working on getting her potty trained, that's hard with all the rain and them not wanting to go outside. Have a nice weekend and stay in touch!
Yvonne, Washington
(Z litter: Idol Holtkamper Hof x Tascha)
---
Dear Nancy – Monday night was Killan's annual check-up. The vet summed it up by saying, "I wish every German Shepherd that came in here looked this good. Her hips, her back – she is in amazing shape". She checked in at 76 pounds, which is where she has been the last 3 to 4 years and looks beautiful. She still acts like a puppy when on walks, especially when chasing Canadian geese – still her favorite past time. Killian is a 100% inside dog. Anyone who thinks that one of your dogs cannot be inside only should talk to us. She loves following each of us in our daily activities. She sits in the doorway watching me fold laundry. She has her toys and a bed on each floor of our 3 story house. Anyone who wants to come in our house has to be checked out by her and I wouldn't have it any other way. Off lead, she is a dream. She walks 3 paces ahead of me and turns every few seconds to make sure I am still with her. It is a treat for me to quickly jump in the bushes and hide – I believe she is smiling when she finds me. The only thing that reminds me of her age is her graying muzzle and a little clouding in her left eye. Keep sending the photos and emails about available dogs – another Zederkamme dog is definitely in our future.
Minerva, Washington,
(Lars x Kalypso)
---
Romeo after his grooming session at Daycare. Romeo is our wonderful boy who amazingly is now about 4 and half years old. As always, a thank you to Nancy, who brought Romeo into our home healing our hearts from the loss of our previous Zeder Kamme soul dog Binky in 2009. Could not picture life without this boy!!!.
Rani, Nevada,
(VA Jaeger x Diamond)
UCD Gilda vom Zeder Kämme CD HT TDI CGC – Nickname "AV" Winnie, Pennsylvannia (G litter: Oly and Xoey)
AV is as happy as a clam being a couch potato & doing her Therapy work. It's the Therapy that she lives for anyway. Always was. Where I live there isn't a childrens hospital so mostly we do house calls. There was one boy who stays in my mind all the time. He was in Hospice & we went there several times a week. His parents asked me if we could come everyday towards the end & of course we did. Each morning AV would gently climb in bed with him & lay so still & quiet. She would lick him each time he'd open his eyes & he'd smile then go back to sleep. I'd just leave her there all day with him. I'd pop in the room once in a while & she'd look at me, thump her tail then put her head back down. Early on a Sunday I got a call from his Mother asking if we could get there asap. Got there at 7:30 & AV knew it was the end. She got up to his face & just licked him so softly. He did open his eyes once & his Father placed his hand on AV. She just laid so still. He passed at 10 AM. I swear AV cried. I know I did. This is so hard but it makes a difference so I keep doing it. 🙂 Anyway, the parents asked if I would bring AV to the services. They told everyone how AV was such a comfort to their son & also to them. AV just sat there all quiet as if she just knew her little friend was gone. This makes # 2 for us. The old folk are tough but it's the children that stay in my mind. AV enjoys the adults well enough but it's the children she loves the best. I'm so proud of her. What a wonderful kind soul she is & I can't thank you enough for her. Keep all fingers & toes crossed that she stays well for a long time please.
---
Hi Nancy, Just wanted to give you a Xora update. She is settling in nicely. Wow, what a bundle of energy. She is not afraid to use her voice! She defended me from a broom that may have had evil intentions (or that was just trying to sweep the floor, but you never know). She is very confident and smart. Randy took her into the vet today. She defended him from a porcelain basset hound statue until she was sure of its intentions, at which point she made friends with it. Everything checked out just fine at the vets. The vet complimented you on the accompanying information packet, said it was the best he'd seen from a breeder. Xora is quite anxious to be with both Joska and Ryker. So far we are just letting them check each other through the crate. Lots of licking and tail wagging on both sides, so far. We have the puppy's crate in the kitchen. Joska has been going in to lay next to the crate and be a comforting presence. Joska was not only just interested in the puppy, she was highly interested in the crate and wingnuts, etc. We figure she recognized your scent!
Sherri and Randy
Washington (X litter: Sammy and Xoey)
---

Hello Nancy, My name is Sheri and my family and I adopted Zimmer, the female long hair puppy that you donated to Guide Dogs for the Blind last year. They gave me your information so I could contact you if I wanted. We were the first puppy sitters that Zimmie had when she was just a few months old and we fell in love with her then. She played with my daughter on the slip and slide and the two of them had a very special bond between them. So, when we moved from Denver to New Mexico, we told them that we wanted to adopt her if Guide Dogs didn't pass her. When we got the call in August we were more than pleased to be able to take her. She now has 4 acres to run on and Rufus (our 4 year old Yellow Lab) to wrestle with. She loves to play ball and has adjusted very well to being a pet. She is very protective of Rufus and Rashel (my daughter). She also demands more than her share of attention. I have attached a picture of the three of them taking a break. We all love her very much, Rufus included. Thanks for such a great dog.
Sheri, NM
(O litter: Zygadto and Xoey)
---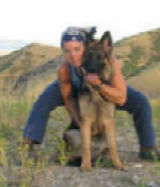 Nancy- Just wanted to let you know that Sukie will be testing for her level 2 Search and Rescue this weekend. She has done so well with her tracking, we are ready to test a bit early. I couldn't be happier with Sukie. Each day she becomes more and more of a great dog. She is the princess in the family! Thank you for being such a responsible, dedicated and committed German Shepherd breeder. I always tell people to see you when they are thinking about a GSD. Anyway, just wanted to sing your praises because you provided me this awesome dog. Take Care Elizabeth P.S. If we pass we will be sending photo of us in full uniform!
Elizabeth, SLC, UT
(S litter: Zathan and Nina)
---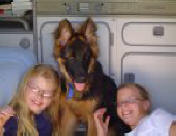 Hi Nancy. Following up on my phone call. Do you want me to bring Voodoo out for a visit sometime? He's doing great! What a wonderful disposition. And he fits me so well. He's turned out to be really mellow and confident and outgoing with other dogs and people. He did well in puppy kindergarten and in novice obedience (still working away on the the core skills, of course). I've taken him camping over the summer and his camp manners are excellent. He also was wonderful while camping with friends kids. I receive all sorts of compliments and give your kennel name freely. Here are some pictures from a recent camping trip. (he looks big next to the kids, but he's still under 40 lbs. really lanky)
Linda
Boise, ID (V litter: Orbit and Tascha)
---
Nancy,
We bought MrQ from you 2 years ago and he is the best dog we have ever had. We would like to find out if you have another long hair male puppy that we could look at purchasing.
Thanks, Dennis and Sally,
Oregon (N litter: Zygadto and Nina)
---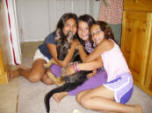 Hi Nancy
Our puppy? Oh you mean our "big guy our big sweetie", he's doing very well. The puppy's name is Ronan. He is named after an Irish saint. Ronan is at +6 mo. and at about +45 lbs. The family took to Ronan at immediately. Ronan had problems relating to a human family and seeing him self as part of our family. At every opportunity he'd seek out to quiet places. Today, Ronan will follow use around take direction and accepts and asks for more physical contact. Ronan is showing signs intelligence, excellent attitude and a high degree of self confidence He's also developing a fun personality. To sum things up, we all are very pleased with and proud of with Ronan. We'd like to think Ronan feels the same about us. P.S. attachments are some pictures you might enjoy.
Thanks,
Bob, Wendy, and Ronan's girls
Oregon ~ (V litter: VA Orbit Tronje and Tascha)
---
"I am very impressed with your communications overall…internet and newsletter…your honesty…and your interest in what your dog is producing. It is a refreshing change from what I have encountered previously!"
Darla, Colorado
---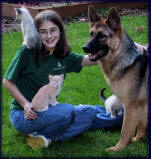 Hi Nancy.
Today was my birthday, and I got to start it out doing one of my favorite things – talking about my dog!! I received a nice email from a lady named Melinda, asking about my experience with you, and my opinion of your dogs. So many wonderful thoughts came to mind I had to sit down and write back to her right away. I wanted to send you a copy of my letter. Thank you again for this wonderful friend.
Jenny, Oregon
(F litter: VA Lord and Quendi)
---
Hi Melinda.. My name is Jenny Halls, and I'd be happy to tell you about my dog "Flash", and my experience with Nancy. You are smart to take a dog purchase so seriously, and to check out references. When I started looking for a pup, I looked at a few local litters first and was extremely dissatisfied with what I saw. I then started looking at websites of German Shepherd breeders. I liked Nancy's philosophy, and the fact that her dogs are bred for performance as well as personality, soundness, and looks. We talked several times by email and on the phone. She got a feel of what I was looking for, and recommended a 6 month old pup that she had available. I realized that this would fit better into my life, as I have 3 kids and a pretty busy schedule. My daughters and I drove out (ten hours each way) to see "Flash" and meet Nancy in October 2001. She brought Flash into the house so we could meet, then we went out in her yard so the kids could play with him. Nancy is a very dedicated breeder. She tries to breed only the best to the best. Her dogs are kind, confident, and extremely smart. It didn't take us long to realize that Flash was the dog for us. Nancy was very thorough with instructions and paperwork. Then we loaded him up for the long drive home. I can't say enough great things about Flash. He is a fabulous dog. He is calm, smart, and an absolute joy to be around. He sleeps in the house – doesn't chew anything but his own toys, never wakes us up, but is right there to welcome us in the morning. He gets along great with our other dogs, but is very focused on me, and will leave playing with them to join me when I come outside. I often take him to the elementary school when I pick up my kids. I did this the first time only days after we brought him home. I was worried that he might jump on the kids or be mouthy. He was incredible. He calmly sat very still, and happily accepted all the pets and hugs. I couldn't believe it. I could ramble on all day about my dog, but that is probably more than you're looking for. We are extremely satisfied with our dog, and Nancy dealt with us kindly and professionally. Please feel free to write back if you have any questions.
Grab one of those puppies while you can. Our Zeder Kamme pup is now two years old and we absolutely love her to death! For what I am doing with Ell'e, she has a perfect temperament. I started shepherding with her about eight months ago. Our teacher tells me that she has the perfect temperament for shepherding. She has a lot of drive for that sport, is gentle to the sheep, but powerful enough to move them. She is very intelligent. I have done obedience classes with her and agility. She loves to work and go everywhere with me. I am still thrilled with her. She has been very healthy without any problems.
Also, I can't say enough good things about Nancy. We searched for a pup for a few months before we settled on Zeder Kamme. Nancy was helpful and willing to talk anytime we called. She did everything she said she would. We lived in a different state and had to have Ell'e flown to us. Nancy took care of everything for us. In the two years we have had Ell'e, I have kept in touch with Nancy and she has been there to answer all my questions. She is very knowledgeable about German Shepherds and very conscientious and careful with her breedings. If you have the chance, go to her kennels, meet her and her dogs. She guarantees her puppies. I'm not sure if all breeders do that, but a good one does. I would never hesitate to buy another puppy from Nancy.
Linda
San Diego CA
(E litter- Lasso x Xitta)
---
Nancy,. After seeing your love for and understanding of the breed, we can better understand why your dogs are so outstanding. It was obvious to us that because of your breeding program and the early development work that you provide that all of your dogs are a cut above any that we have seen.
Greg & Julie
Eagle, ID
---

Hey Nancy, We are all doing great!
Gustav is the hit of the neighborhood and park! He is Mr. Friendly in all the parks and everywhere we go, people say "Oh yea, I've heard of Gustav !" I've given your name to several people who are interested in GSD's. There are several other GSD pups in the neighborhood and really, not just because we love Gustav so much, but he is the best looking and has the best temperament of all of them. He is really a joy to be around and has settled in just fine. He loves going with us whatever we do and LOVES to swim. He also LOVES the snow. We went to Bend last weekend and went up to about 6000 feet to this great lake. He had a ball….All in all he's still very happy, healthy, loves people and loves other dogs. He's a very social dog and remains confident. We couldn't be happier!!!
Kristen, Portland, OR
(G litter – Oly x Xoey)
---
Nancy,
I appreciate your dogs and the quality they are. I knew I was assured of a quality animal and that is why I contacted you and did not look elsewhere. I will keep training Hansel and keep him until the end. Any man I get involved with will have to realize Hansel was here first. Love me, love my critters. They are more loyal, anyway. I will keep you posted.
Thanks, Debbie, Utah
(H litter- Oly x Quendi and previously A litter- Newton x Xitta)
---
Nancy. Just wanted to send you an update on Max ~ He just continues to impress me everyday, at nine weeks of age he would consistently speak for food. He has exceptional prey drive, for the ball , the towel, and just about anything that moves. At ten weeks of age he has a grip that about puts me to my knees and it is a constant solid grip not a bite and release type. He has never had an accident in the house or the crate. We play hide and seek about everyday, he always manages to find me, sometimes it takes him a little time if he get s a little excited, but I don't make it to hard for him at this point, and he always finds me mostly by wind scenting. We have had snow, and he loves it. He is cautious, but shows no fear of anything at this point, always eager to investigate. He goes with me everyday and loves it. I am extremely impressed with his grip and his focus. I haven't got around to pictures yet but I will try to get that done ASAP At this point I would have to say he is as stable a puppy as one could hope to find.
Thanks again: Scott
~ Scott is a rancher in Nebraska who uses his dog for cattle work. (I litter – Gismo x Xoey)
---
Nancy,
Hi, sorry it's been so long since I let you know that my mom and brother (mike) love Mitzi. I got her spayed a couple weeks after I took her and as soon as she had her check up appointment mom had me meet her in tri-cities and she took her home. They love her and she loves it there. Dad thinks she's the smartest dog ever and my sisters kids (do you remember my niece Dani) go play with her all the time and she loves them. My mom can't believe how good she is with all the kids ages 3 to 10. She plays approperately with each kid at their age level. She is basically spoiled rotten and loving every minute of it. She has became a good watch dog also. She won't let strangers in, until mom or mike say it's ok. Mom feels very safe there without mike around with Mitizi there. Yet she is just a big love bug and tries to sit in Mikes lap most of the time. They say she has filled out and looks even more beautiful then she was. I'm going down in Feb. so I'll let you know when I get home some more news. And I'll get some pictures…
Thanks, Shannon, Idaho and Oregon
(M Litter: Oly and Terrie)
---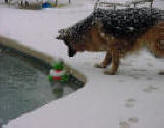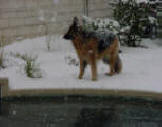 Nancy: A Couple of pictures that really show off Binky and her personality today. I liked them so much I thought they might look good in your owner section of your webpage. Thats it for pics from Vegas! Happy weekend!
Rani, Nevada
(Binky is E litter: Sieger VA Lasso and Xoey)
---
Hi Nancy! I just wanted to drop a line and let you know Sheba AKA Dolly is doing great! She just turned 7 on June 6th and is healthy as ever. The Vet who worked with her for her vaccinations was so impressed with her. He said she was the best looking shepherd he had seen in a long time. I love her so much she is by far the best dog I have had. I have talked to you before about getting another dog and I would like that. Do you have any dogs that are in a similar position as Dolly…don't meet the standard for competition and you want a good home for? I would love to get another one of your dogs! I feel like it would have to be a male because she is so dominate especially with females. Also I would love to come and visit this summer where are you located? Let me know.
Thank you, Andrea, Utah
(D litter: Atty and Alexis)
---
Nancy: I am forwarding a picture of Que Sasha taken in Sun Valley. She is such a fantastic dog, we love her! She loves to ride in the car and visit Home Depot or my son's day care. I am still working at home and she spends the vast majority of time inside with me. I refer to her as my secretary. She has been in excellent health and we use Dr. Calhoun for her vet. He is a wonderful man who truly loves what he does. Anyhow, just wanted to let you know Sasha is doing well. When we are in the market for another dog, we will definitely contact you about another long coat.
Happy Holidays, Lisa, Idaho
(Q Litter: Falk & Hillary)
---
Rohan is absolutely beautiful. He has fit into our family wonderfully. He has gotten so big, and seems so healthy and is very strong. We have had some family come to stay a couple of times, and he has been awesome with them. He has a strong play drive, and loves to chase a tennis ball around the house and outside. He is so powerful, we love to watch him open up his speed. He is very protective of the family, which is just fine. Anyone that asks we proudly tell where we got him, and appreciate the fact that you have bred such wonderful dogs. He gets lots of hugs, and we love to spoil him. Thanks again for everything.
Kris, Tim, Tiffany and Ashley, Idaho
(Sir Rohan: S Litter- USA Sieger 2003 VA Superioue's Zathan & V Nina)
---
I also want to let you know that when we came to you last fall, we wanted the best dog, overall balanced dog we could get. That has been accomplished 1000%. No matter if Raina ever has a title, ever has puppies, or ever herds a sheep she has been the perfect addition to our home. The fit has been perfect. THANK YOU for taking your dogs, your breeding program, and puppy placement so seriously. You did a wonderful job for us.
Debbie and Dwayne, Idaho
(R Litter: Xoey and Hajo Hirmer Tech,"Ra")
---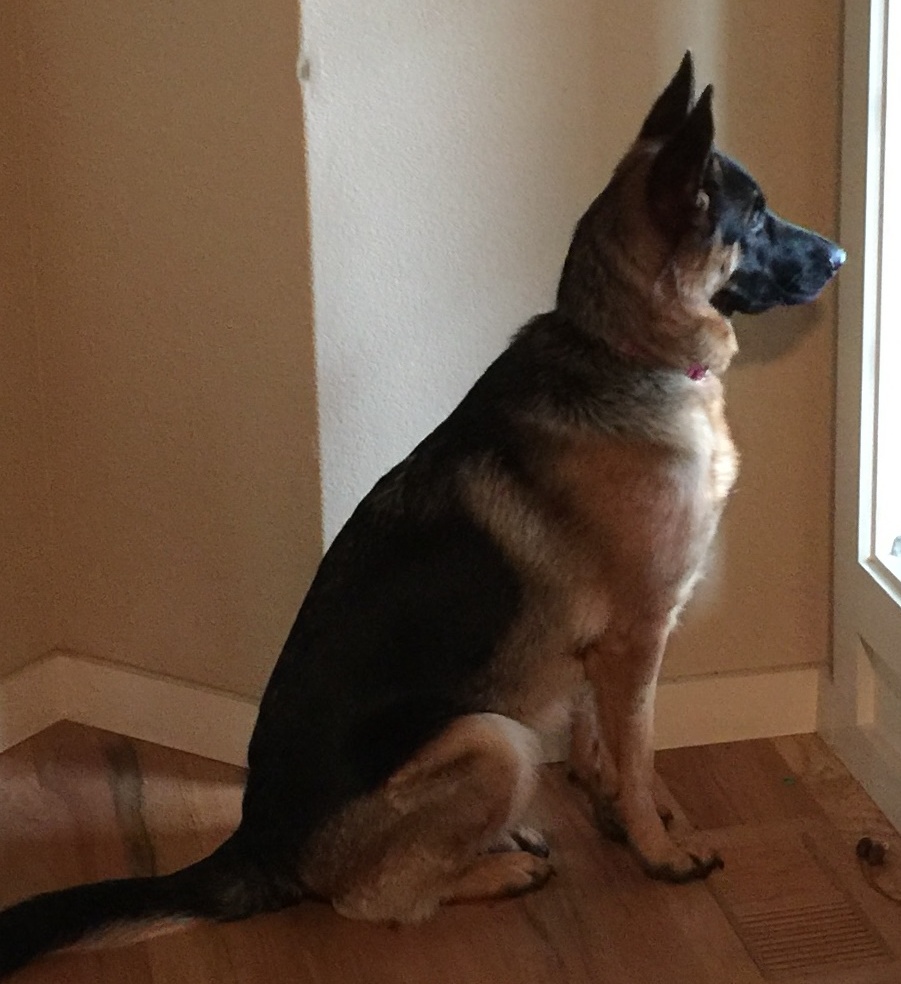 Today Freyja is one year old! It's hard to believe it's been a year already and she has grown into such an awesome GSD. We get so many compliments all the time on how well behaved and beautiful she is. She loves to hang-out with me even when I'm just working in the garage, she will lay on the driveway and make sure the neighbors don't bother me.
Kevin, Idaho,
(Zhoo Zhoo x Gorki)
---
At 11 months Goliath listens better than the boys. He is so smart and gets compliments all the time. His sit, stay, heel and fetch is spot on! Such a good boy. We are thankful every day for him. He loves the water and swims every day.
Scott, Hawaii,
(Zhoo Zhoo x Gorki)
---
Jeff took Riviera Sierra to the vet today and took Michael's Bliss along. The vet told Jeff that these were the two best temperament shepherds she has seen and how wonderful they are. Rock on Zeder Kamme.
"Sierra and Bliss" Colleen, Idaho
(R2 and B3 litter pups from Diamond)
---

Trinket continues to be a sweetheart. She is a golden retriever in a German shepherd body. We took her in to a care center to visit Karen's dad and she was a perfect lady, loving to be petted by the patients and the care-givers, too. As you can see, she loves the snow and all that goes with it. For the bright days on snow, she's learning to live with, not love, the Doggles.
Trinket, Phil – Idaho,
(Unique x Gorki)
---
Good evening, Nancy!! I just had to drop a quick testimonial. Ari Blue is the best! His temperament is so even and sound that, despite my incredibly rude neighbors' best efforts, he didn't so much as flinch New Year's Eve. Not even when the house shook and car alarms were set off several times from the illegal fireworks being set off in front of my bedroom window. M-80s don't hold a candle to the canon-like explosions that disturbed our sleep several times that night. We knew he was sound after the 4th of July but this was over the top!! What an awesome boy. He got up, checked the house and then went back to sleep!!!
Dina, California,
(Diamond x Xilas)